An article from Confluence-Denver takes a snapshot of Minneapolis  outlines current projects, city initiatives, and goals makes us proud of where minneapolis and Downtown East and Mill District is heading! http://www.confluence-denver.com/features/smart_cities_minneapolis_011415.aspx
"...The plan's 10 goals, to be reached by 2025, cover everything from population growth (70,000 downtown residents) and transit (creating a "downtown circulator," most likely a streetcar loop) to quality of life (housing all homeless downtown residents) and national thought leadership (launching the Minneapolis Ideas Exchange, an Aspen Ideas Festival-style gathering)."
...
"Minneapolis is the capital of the North . . . and should be the first non-coastal city that knowledge workers and business leaders think of after Chicago." says Carl Runck, director of development for Ryan Companies.
Historic buildings and modern infrastructure
Ambitious visioning and modern amenities have undoubtedly driven downtown Minneapolis' growth. But so have historic assets in place since the city's infancy.
The Mill District, just southeast of the central business district, once boasted the world's largest collection of flour mills. Dozens of mills used the power of St. Anthony Falls to pulverize raw grain for shipment across the continent. Internal combustion proved more efficient than water power, though, and the last mills closed by 1970. But most remained standing, their empty hulks blighting the Mississippi riverfront.
The Historic Mills District Master Plan, first drafted by city of Minneapolis planners in the late 1990s, sowed the seeds of a resurgence. Charmed by the Mill District's rich history and authentic urbanism, young professionals, creative workers and active retirees flooded into the neighborhood. Eventually, so did cultural and educational institutions.
Wholesale loft conversions began in 2000, with development accelerating after the opening of the Mill City Museum in the ruins of the Washburn 'A' Mill. New residential construction filled in surface parking lots built to handle overflow from the nearby Metrodome. Urban pioneers used Mill Ruins Park, a pretty riverfront space with views of the iconic Stone Arch Bridge, as a backyard.
By the mid-2000s, the Mill District was becoming a vibrant hub for high culture. In a major coup, the iconic Guthrie Theater relocated to the Mill District from across town. The Mill City Farmers Market also began operations in 2006, and the MacPhail Center for Music opened a year later.
The Mill District is now among the city's most affluent Census tracts. "The average per capita income in some [Mill District] condo buildings is $200,000 or more," says Carl Runck. "The area is truly the Gold Coast of Minneapolis."
Today, prosperity is spilling over into surrounding areas. Cranes litter Downtown East, a once-sleepy expanse of parking lots and light industrial buildings just south of the Mill District. Downtown East is home to the new Vikings stadium, an obvious economic anchor, but lacks the Mill District's historic charm.
Yet developers and community leaders have big plans for the area. Wells Fargo is building a 1.1 million square foot, LEED certified office complex here, for instance. Nearby, a four acre public park called The Commons will rise on a former parking lot, surrounded by high-rise apartment and condo buildings -- shades of Central Park in downtown Minneapolis. The Mill District's rising tide, it appears, is lifting Downtown East's boat."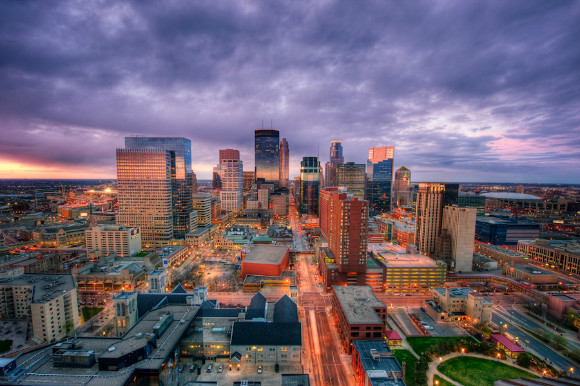 photo from the Line Media